The latest news and announcements:
(Please hit the refresh button on your browser to ensure that you are viewing the latest version.)
06 Mar 07 - Our PSHS Mentor's Pages
Thanks to Tony S. who provided the scans, we now have a few pages of our website devoted to our teachers. Click here to view the pages
03 Mar 07 - Article on Lazzie
An article on Lazzie from Cristina Jayme Montiel's book, Living and Dying - In Memory of 11 Ateneo de Manila Martial Law Activists is posted here.
24 Feb 07 - The Forum
The Forum is now open for members to discuss whatever issue or topic they have in mind.
21 Feb 07 - Website update
You may now update your current information on the website as well as post announcements without having to pass thru the Webmaster. To be able to do this, you need to have your own unique User ID and Password. If you are interested in setting up a password, just e-mail with your preferred password (6 characters or more) and I will create your user id.

Note that this is a new feature and may have some bugs so if you encounter anything strange, please let me know.
14 Feb 07 - Based on available data, you may now get a list of who your classmates were by clicking on the "Who were my classmates?" link at the bottom of your web page.
09 Feb 07 - Due to the upcoming visit of Japan's Prime Minister on Feb 13, Hermo and Rogie will be in Malacanang Palace. Because of this development, Rogie has decided to postpone the Navy Golf Club fellowship for Saturday, Feb 24. Tee-off time is at 7 AM and the dinner reunion has also been moved to noontime.
05 Feb 07
Those who would like to attend the Golf Fellowship/Dinner hosted by Rogie on Tuesday, Feb 13, here are the details:

Venue - Navy Golf Club, Fort Bonifacio, Taguig City Registration Fee - P1,000/per player (covers the green and merienda)
Tee-Off Time - 12:30PM
Giveaways to players- t-shirts and caps
Four major awards will be given to top golfers

Dinner and awarding of prizes will follow at the Navy Golf Club at 6PM. No fees/dinner- tickets required. (We will be inviting our former Pisay teachers. Volunteers to fetch some of them are most welcome.)

Please confirm your attendance for either or both events on or before Feb 9.

This Pisay Dos and Pisay Kawal affair is in celebration of Rogie's promotion and Hermo's birthday. Since he will be given a Carlos P. Garcia "Most Illustrious Son" Award by the Bohol provincial government on Feb 9, he won't be able to attend Hermo's party. That also explains the Feb 13 date.

Come and join the fun and fellowship.
31 Jan 07- Our warmest Happy Birthday greetings to our February celebrants!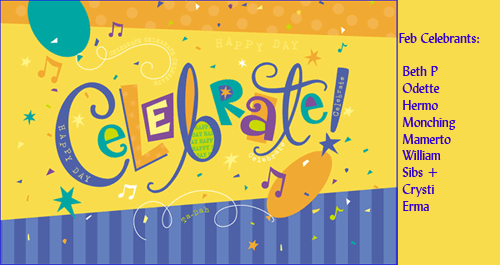 28 Jan 07- Vince has written a wonderful piece entitled "Who Are We?" which can be found in the About Us page.
24 Jan 07 - We are currently in the process of creating a batch website.