Here's an article on Lazzie from Cristina Jayme Montiel's book, Living and Dying - In Memory of 11 Ateneo de Manila Martial Law Activists
Lazaro "Lazzie" P. Silva Jr.
(1952 - 1975)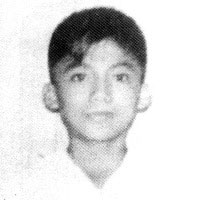 Lazaro P. Silva, Jr. was born on 4 March 1952 in San Jose, Nueva Ecija. Within the Silva family, he was known as "Cedric," though he came to be called "Lazzie" by his friends. His father was a lieutenant colonel in the Philippine Constabulary. The fourth among nine children, Lazzie was the eldest boy.
The Silva family settled in Manila, eventually living in a house in GSIS Village, in Project 8, Quezon City. In 1965, Lazzie graduated fifth honors from the Pio del Pilar Elementary School. His ambition then was to become a civil engineer.
In 1965, Lazzie passed qualifying examinations for a scholarship at the Philippine Science High School (PSHS). At that time, the PSHS had a five-year high school program whose curriculum focused largely on science. Lazzie enrolled in June 1965 and joined the second batch of students accepted to the prestigious national science high school.
While in PSHS, Lazzie was an "extern," a term referring to PSHS non-dormers, or students who lived outside the campus. Everyday after classes, Lazzie returned to the Silva home in GSIS Village.
The academic program of PSHS allowed students a lot of free time between subjects. Delfin Bibat, Lazzie's high school classmate and friend, recalls, "At that time, we were treated more like college students - we had this schedule, then free time in between and we could go wherever we wanted to go, etc." During vacant periods, Lazzie frequently hung out with his schoolmates and friends who remember him as kalog or humorous, witty, and lighthearted, and notably musically inclined. He sang and played the guitar in the company of his friends and was once featured in a radio program.
Lazzie was also a cadet officer of the Philippine Military Training program, which was mandatory for high school students. He rose and led the first platoon in fourth year high school.
Notwithstanding the rigorous scientific training and the high academic standards of his high school, Lazzie's motto with his friends at school was simply to "pass and have a good time." Bibat recalls,
There was extreme pressure, but we didn't care. In the first place, most of us were competing with valedictorians and salutatorians from their respective elementary schools . . . (It was) very competitive. We weren't as dedicated as those in the honors sections; we were just pressured to meet the academic standards because we knew that in Science High we wouldn't have a second chance. Basically in high school we were just ordinary students. We weren't at the top of the class but we weren't exactly spending out time mainly studying . . . We just wanted to have fun.
Batch II was a relatively small class, composed of only 128 students. Thus the students in the PSHS community knew one another quite well.
Lazzie belonged to a barkada notorious for its antics. Known as the XYSTS, Lazzie and his friends were close to one another. When asked what the letters "XYSTS" stood for, they would say it was a secret. Bibat explains that the XYSTS group coined the term themselves, simply because they were looking for a word without a vowel. "It doesn't mean anything," he revealed.
The XYSTS shared several years of companionship, kalokohan and close friendship. Lazzie tended to be quiet with strangers and acquaintances, but among his close friends, he was gregarious and funny. He spent time with the XYSTS in various dorms and the private boarding houses of his friends. The boys frequently passed the time at the Pink House, a billiard hall in Loyola Heights, and at Fun Center, an amusement center in Cubao which had billiards and pinball games.
Lazzie's other usual activities consisted of "jamming" and playing football and basketball with his friends. Bibat recalls that Lazzie was part of the "Walter Mitty's Basketball Team" during the school intramurals, which Lazzie named after a character in a short story written by James Thurber.
Lazzie and his friends considered themselves "Manila boys" in the sense that their activities were not confined to the campus. "We knew where to go," Bibat narrates as he recalls the group's party life both on the PSHS Campus and outside. Their social activites ranged from gallivanting around GSIS Village after school hours, to attending parties in Marikina. Recalling their escapades, Bibat fondly reiterates, "we just wanted to have fun." Thus were Lazzie's high school days filled with carefree social get-togethers.
The beginnings of politicization
When the First Quarter Storm heated up in 1970, Lazzie was in his last three months in high school. Thus far, the only incident that exposed some PSHS students to activism was a rally in Malacanang to dramatize their demand for a better relocation site. The class of 1971, which followed Lazzie's batch, would be the first step into the improved PSHS school site along Agham Road in Quezon City.
After graduation from high school, Lazzie enrolled at the Ateneo de Manila University for college, even though most of his friends in XYSTS went to study at the University of the Philippines in Diliman. At the Ateneo, Lazzie was a scholar of the Government Service Insurance Sytem (GSIS).
His activism took root in college as early as the first semester of his freshman year. At that time, several Ateneo students held marches and put up barricades within the campus to protest tuition fee increases, the clampdown on campus activists, and other burning issues of the time.
Initially, Lazzie participated in the rallies as an individual. But before long, he was recruited to the radical Samahang Demokratiko ng Kabataan (SDK), Ateneo chapter. Friends and former high school classmates would see him at rallies and other mass gatherings outside the campus.
In February 1971, a UP student, Pastor "Sonny" Mesina, was shot while participating in a barricade protesting the oil price increase. For Lazzie and his friends, the event took on a sobering significance: Sonny Mesina was their batch mate at Philippine Science, and belonged to their group, the XYSTS. From a wider perspective, the said incident triggered the formation of what came to be known as "the Diliman Commune," which, along with similar barricades and rallies in Ateneo furthered Lazzie's politicization.
The summer of 1971 saw more expansive and intensified movements among student groups. Organizations were setting up new chapters, recruiting new members and organizing mass actions throughout the country.
On 1 May 1971, groups of students, workers and activists staged a rally in front of the Congress building in support of the workers. Suddenly, soldiers on the rooftop opened fire at the rallyists. Four workers were killed. Lazzie, who had joined the rally, witnessed the incident. "It's things like that which tend to politicize you," Bibat explains.
In 1971 the writ of habeas corpus was suspended. Lazzie, meanwhile, became active in putting up chapters of the student and youth movement in Marikina. Since he studied at the Ateneo, he was assigned to areas immediately around it. He also helped organize workers' communities in Quezon City. Eventually, Lazzie quit he studies to devote himself to activism more fully.
A deeper commitment
Lazzie and Bibat were both assigned to the Quezon City-Marikina (QCM) District. Bibat recalls, "Although he would help organize the workers, his full-time assignment was with the youth. We tried to get the students from all over together, so that we would have a diversified base." Upon becoming a full-time activist, Lazzie attended regular meetings of officers of the radical SDK.
Amidst all these, he took time out to help his sister who owned a furniture shop. He also continued to give time to his music. Lynn Polintan Castilla, an activist from St. Theresa's College, remembers that "during martial law, a curfew was imposed and caroling was banned, but we decided to go ahead and carol anyway. And, he was our guitarist."
Bibat recalls that people were drawn to Lazzie for his lighthearted ways:
People tended to like him. Besides the fact that he was humorous, he saw life itself as fun and filled with humor . . . Still, although magaang pa rin ang dating niya, when he was with the movement he became serious about what he was doing. He would prod, if he sensed na baka lumabas (or perhaps would quit the movement). Discussions with Lazzie were very light but substantive. May laman, pero magaang.
Bibat, who also lived in GSIS Village at that time, noted, whenever he would visit the Silva residence, how close Lazzie's family members were to each other. Lazzie's brothers all looked up to Lazzie, while his older sisters knew they could depend on him.
Lazzie's father, who later retired from the military, was understandably uncomfortable about Lazzie's involvement in activism. But Lazzie persisted, attending and participating actively in meetings, rallies, demonstrations, and teach-ins (Quimpo n.d.). Castilla recalls, "Outwardly, he might have been kalog, but inside him was a sincere devotion to the masses. From the moment I met him I think he was his own self . . . who made himself always available to the movement."
In late 1973, Lazzie and a comrade were arrested by the military outside a printing shop in Manila, where they had just mimeographed manifestos. Lazzie was incarcerated for six months in Fort Bonifacio. According to Castilla, "While there, he participated in the detainees' activities. On the side, he learned how to be a tailor, so when he was released, he was able to saw pants for friends and family."
After his release in around April or May 1974, Lazzie and Castilla began seeing each other. For two to three months, they attended underground meetings together and discussed their plans regarding their further participation in the activist movement. Lazzie also began making arrangements to go to the countryside. Castilla recalls,
He said that it was futile for him to stay in the city given his detention record. He felt he would be more effective if he joined the NPA (New People's Army). His months of detention certainly prepared him to face a life of struggle.
The ultimate sacrifice
In September 1974, Lazzie left for the countryside. A comrade brought him to his designated area in Central Luzon where Lazzie was to work among the peasants. He first integrated himself with the community and learned the people's way of life. Castilla, who stayed behind in Manila, recalls
We communicated through letters which came through couriers. It took weeks, if not months, for us to know about developments in each other's life. Lazzie told me of his difficulty in adjusting to his new life. But he was determined to learn. He lived with the peasants. He helped them till the land, plant and harvest. He even helped in the delivery of a peasant's baby.
In their correspondence, Lazzie indicated further commitment to the cause he believed in. He wrote seriously about an intensified devotion to his work and demanded of Castilla a deeper analysis of sociopolitical issues.
Although Lazzie had several opportunities to visit Manila, he refused to do so. Castilla once wrote him a letter asking why he refused to come back to the city even for just a few days. She recounts Lazzie's reply:
He said he knew that if he came back to the city, he might be tempted to stay. He set a standard for himself and was determined to meet that goal. He asked me to go to the province instead.
Castilla was making arrangements to see Lazzie somewhere in Zambales when she received a phone call from his brother, informing her of Lazzie's death. Apparently, on 13 August 1975, members of the military surrounded the hut where Lazzie and his comrades were staying. Lazzie had volunteered to stay on and keep the military at bay so his comrades could escape. He was killed in the process (Castilla 2001; Quimpo n.d.).
The military brought Lazzie's body to the morgue, his head dangling from the edge of a jeepney according to witnesses (Quimpo n.d.). For his life to be brutally extinguished at the hands of the military was Lazzie's ultimate sacrifice for the cause he believed in. As Castilla writes in remembrance,
It pains me sometimes when I think of how young he died. He was just 23 years old. The fun-loving, happy-go-lucky man that I met turned out to be a dedicated man, a real hero for the people. . . . He died fighting for his beliefs and in service to the people he loved.